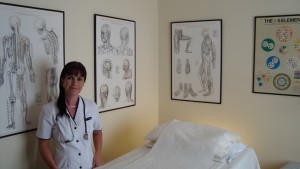 Sharon studied at in the UK in the College of Traditional Chinese Acupuncture in Leamington Spa where she graduated in 1990. The College was founded by Professor J.R. Worsley (1923 – 2003) who is credited with bringing five element acupuncture, also known as classical acupuncture to the western world. For many years he resided in the UK where he opened the College of Traditional Chinese acupuncture which formed many of the leading five element practitioners today. Sharon was lucky enough to study at a time when he was still lecturing and during her training, worked directly under his tutelage.
After qualifying, Sharon worked for a short period in the UK before returning home and worked in Dublin from 1991 to 1998. In 1998 she moved with her family to Kildare and a year later moved her clinic to Calverstown, which is just off the M9 outside Kilcullen.
In 1996 Sharon also studied under Doctor Vincent Molony , a medical doctor, who has specialised in psychological medicine. He is a Consultant Psychiatrist and is recognised internationally as an expert on child and adolescent development. Sharon enrolled on his developmental mediation course in Peamount Hospital and received her diploma, following two years studies in 1998.
Dr. Molony has acted as a consultant on adolescence and appeared on the television series 'Family Matters; on RTE. His recent RTE Radio series 'The Mind of a Child' was highly acclaimed.
Sharon has treated a wide variety of symptoms and illnesses with great success and also uses acupuncture to assist women who have been diagnosed with various types of infertility which can be treated very successfully with acupuncture.
Through various studies acupuncture has been shown to significantly increase conception rates during IVF treatment to approximately 42% from the normal rate of 25%.